Search Radius
Configure the search radius where to look for matches in your store finder database.
With the radius shortcode parameter you can make Locatoraid search for matches within the specified radius (in km or miles, depending on your settings).
If several options are given, then it first searches within the first option and gives the More Results link to search within the next radius option. If no matches are found within the largest radius, it shows No Results message.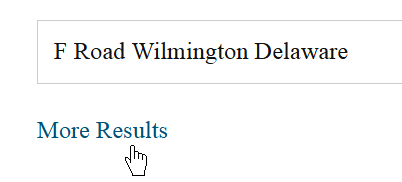 Default value is 10, 25, 50, 100, 200, 500. So it first looks for matches within 10 miles of the address the visitor searched for and displays them on the map. If more locations exist within 25 miles (the next radius option), it displays the More Results link clicking on which the customer will get these results within 25 miles of their search. And so on. If there are no mathes within 10 miles, it tries to find something within the next radius until something is found.
If only one radius option is supplied, it searches within this radius only, no More Results link is shown.
Examples
[locatoraid radius="20, 100, 250"]
[locatoraid radius="500"]
You might need to experiment with this value for the best experience for your site visitors. If you have a lot of locations, like thousands, then you may just keep the default value as it's likely to bring enough results within the first radius option. If you have a smaller number of locations, and they are quite spread across the territory, you may get better results with a bigger first search radius option, like 100 miles or more.