Custom Map Icons Pro
The standard map markers offered by Google Maps can be limiting in their design and functionality. Thus custom map icons are becoming an increasingly popular way to add a personalized touch to your Google maps locator plugin.
With Locatoraid Pro ability to create personalized markers that reflect the unique brand or style of your stores, custom map icons offer a level of customization that can help you stand out in a crowded digital world.
Locatoraid Pro allows you to choose a custom icon file for any of your locations.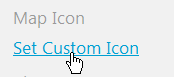 Upload a new or choose an existing icon, then click the Select button. With so many options available, it can be challenging to determine which custom map marker is best suited for your needs. In this example, we took an image with a plane to mark an aviation-related location.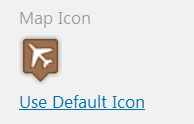 Then this location will be marked on the map by its own custom icon. As you see, a custom map marker is a great way to showcase your special store or add personality to your maps.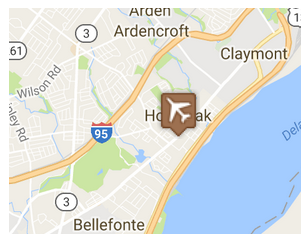 When importing locations from a CSV file, you will be able to use the map icon WordPress attachment id if the custom icon image file is already uploaded to your WordPress installation and you know the id. Or you can supply the custom icon image URL, it will automatically upload this image to your WordPress site and assign it to the location.