Locatoraid Pro allows you to add up to 5 additional fields to keep custom information about your locations.

You can give any labels for these miscellaneous fields.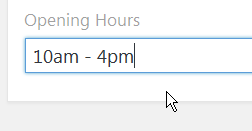 Then you can enter your custom information for your location entries.

Finally this additional information is displayed in the store locator search results listing.